Grills of any kind are not allowed on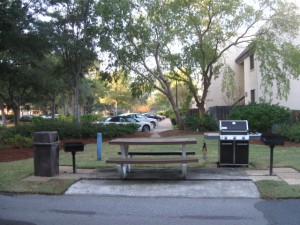 porches, balconies or breezeways. However, the property is well equipped to meet all of our owners and guests grilling needs. There are several grilling stations located throughout the property. Along with the charcoal grills and picnic tables, there are an additional seven propane gas grills available for usage.
The Island Club Courtesy Team monitors the propane tanks on a daily basis and replaces empty ones as soon as they are discovered. If the propane tank at your grill is low or empty, please contact the Island Club Gatehouse at 843-785-2586 and the staff member on duty can replace the tank for you.
Also, please remember to clean the grilling station up after you have used it and if tank is low, inform the Island Club Courtesy Team so they can be prepared to swap out the empty tank! Any issues you have with a grilling station should be reported immediately to the Island Club Courtesy Team.